SECOND GENERATION VISCOSUPPLEMENT 
INDICATED IN THE TREATMENT OF ANKLE, HIP & SHOULDER OSTEOARTHRITIS
UNIQUE COMBINATION OF CROSS-LINKED HYALURONIC ACID + MANNITOL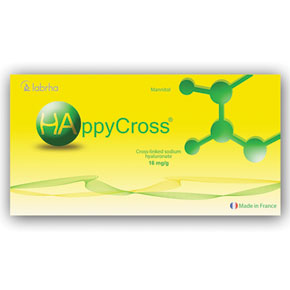 MEDICAL DEVICE – 1 x 2.2 ml pre-filled syringe (SINGLE INTRA-ARTICULAR INJECTION)
High concentration for prolonged activity
HAppyCross™ contains high concentration of hyaluronic acid (1.6%) i.e. 35.2 mg/syringe.
Cross-linked Hyaluronic Acid
HAppyCross™ is a cross-linked hyaluronic acid gel with high degree of cross-linking (85%).
Cross-linking:
•    Ensures a gel-like rheological behavior, maximizing then the mechanical properties of hyaluronic acid.
•    Increases the residence time of the gel in the joint cavity, preventing biodegradation from free radicals and enzymes.
Mannitol
HAppyCross™ also contains high concentration of mannitol (77mg/syringe).
Long-lasting effect: Mannitol is an anti-oxidant which protects hyaluronic acid chains from free radicals and limits their degradation, increasing then their residence time in the joint cavity.
Analgesic effect: Due to its free radical scavenging properties, mannitol also ensures local analgesic effect.
Stabilizer: because it is a thermal stabilizer, mannitol allows HAppyCross™ to guarantee a stability of its rheological properties all along its storage.
Safe
HAppyCross™ is highly purified and results from bacterial fermentation.
Experimental/Clinical Studies
Predictive factors of effectiveness of a single intra-articular injection of cross-linked HA in patients with symptomatic hip osteoarthritis. Multicenter, prospective study conducted on 100 patients in daily practice. Maillet; X. Chevalier; D. Loeuille; T. Conrozier (ongoing)
Efficacy and safety of viscosupplementation with HANOX-M-XL (HappyCross®) in ankle osteoarthritis. Results of a standardized-follow-up. Marie Bossert, Anne Walliser-Lohse, Jean-Charles Balblanc, Thierry Conrozier (results available, c.f. poster presentation)

Viscosupplementation with HANOX-M-XL (HappyCross®) in 137 patients with hip osteoarthritis. Results of a "true life" clinical survey. Thierry Conrozier, Marie Bossert, Anne Walliser-Lohse, Jean-Charles Balblanc (results available)