Like every year since 2012, LABRHA attended the EULAR Annual Meeting
which took place in Amsterdam
from the 13th  to the 16th of June 2018.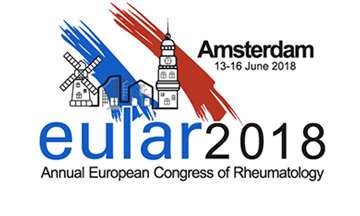 During the scientific session on "OSTEOARTHRITIS and microcrystalline disease", Dr Thierry CONROZIER (France) presented results of the INSTINCT Study: influence of the radiological grade on the efficacy of an intra-articular injection of hyaluronic acid (HAppyMini®) in patients suffering from trapeziometacarpal osteoarthritis.
The main goal of this multicenter prospective study was to investigate the predictive factors of response of a single intra-articular injection of HAppyMini® in patients suffering from rhizarthrosis not adequately relieved by the use of a thumb orthosis and by analgesic treatment or NSAIDs.
— 122 patients with a Dell grade 1 to 4 osteoarthritis received an injection of 0.6 to 1ml of HAppyMini® in the Trapeziometacarpal joint under fluoroscopic or ultrasound guidance.
— The main outcome measure was the pain variation, on an 11 point scale (0-10) between the day of injection (D0) and the final visit, 3 months later: D90.
— 3 months after the injection of HAppyMini®, pain decreased significantly, from 6,5 (1,6) to 3,6 (2,5) (p<0,0001). [1st chart]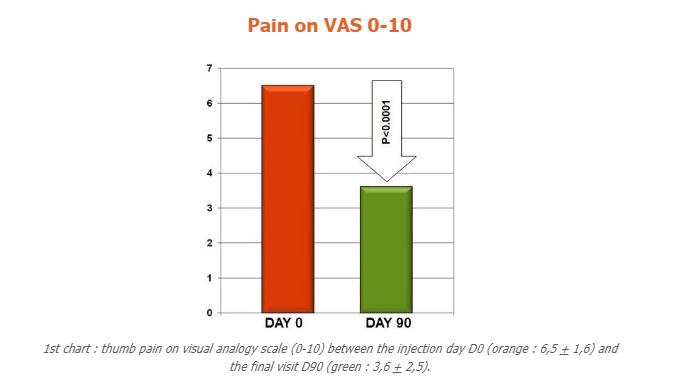 — Pain improvement was neither related to Dell radiological grade [2nd chart], nor to the level of pain at baseline or to the disease duration, suggesting that viscosupplementation with HAppyMini® remains indicated, even in highly symptomatic and advanced anatomic stage of the disease.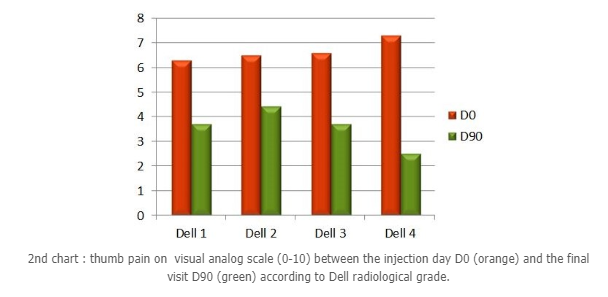 — Local pain following the injection was reported on 11% of the patients. It was in all the cases resolved in the less than 7 days. There were no severe adverse events reported.
This prospective study on the biggest cohort ever published in rhizarthrosis shows that:
A single intra-articular injection of HAppyMini® from 0,6 to 1ml, under imaging guidance, significantly improves pain for at least 3 months;
HAppyMini® can be used in advanced stage of rhizarthrosis;
Tolerance is good, but it is recommended to inform patients about the risk of local pain occurence in the following days after the injection.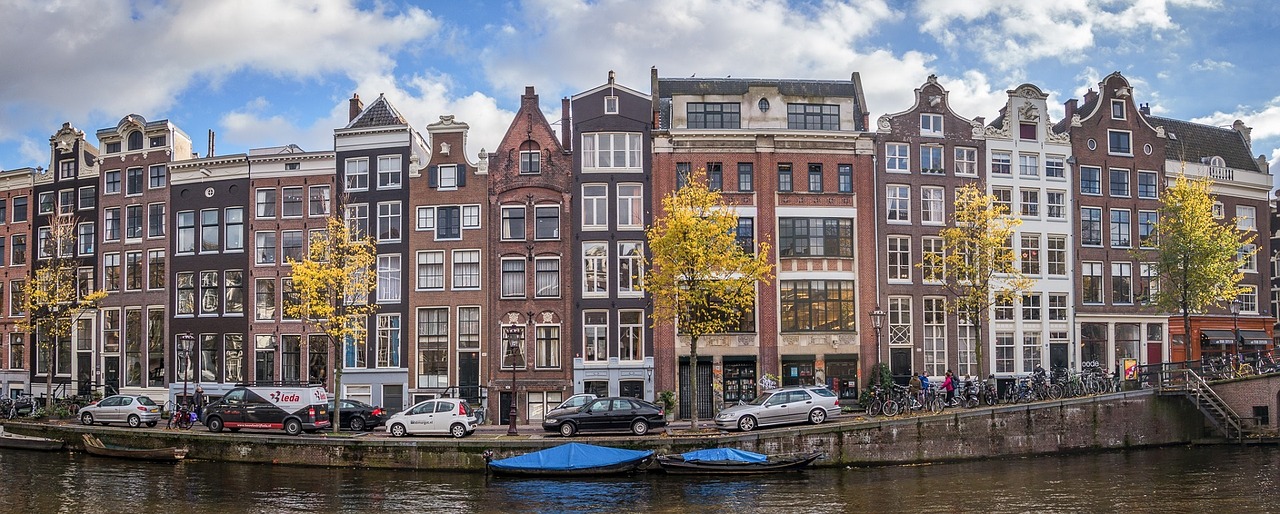 See the Poster displayed at the EULAR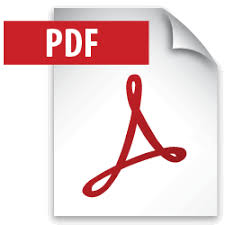 Read the abstract

Read the Full Text