Second generation viscosupplement solution indicated in the treatment of pain in small joints affected by osteoarthritis.
UNIQUE COMBINATION OF CROSS-LINKED HYALURONIC ACID + MANNITOL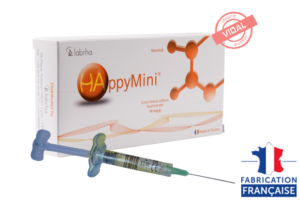 MEDICAL DEVICE – 1 x 1 ml
(SINGLE INTRA-ARTICULAR INJECTION)
Appropriate Volume
HAppyMini® is supplied in a 1ml pre-filled syringe and is entirely appropriate for intra-articular injection into:
TMC joint of the thumb   –   Fingers   –   Big toe   –   Temporomandibular joint   –   Wrist   –   Subtalar joint

High Concentration for Prolonged Activity
HAppyMini® contains high concentration of hyaluronic acid: 1.6% i.e. 16 mg/syringe.
Cross-Linked Hyaluronic Acid
HAppyMini® is a cross-linked hyaluronic acid gel (IPN-Like technology)
Cross-linking:
Ensures a gel-like rheological behaviour, maximizing then the mechanical properties of hyaluronic acid.
Increases the residence time of the gel in the joint cavity, preventing biodegradation from free radicals and enzymes.

IPN-Like Technology: a unique and patented cross-linking process
Compared to the classic cross-linking technique, the IPN-Like technology, or InterPenetrated Cross-linked Networks, involves combining, inserting one into another, two monophasic hyaluronic acid networks previously purified and cross-linked which are mechanically independent.  Interpenetration of Cross-linked Networks:
Optimizes the density of the chemical bonds while minimizing the use of reticulating agent (BDDE) within the monophasic gel, ensuring a longer-lasting effect of the product.
Preserves the partial independence of the inter-penetrated networks and guarantees the gel is supple and easy to inject into the joint.

Mannitol
HAppyMini® also contains high concentration of mannitol (35mg/syringe).
Long-lasting effect: Mannitol is an anti-oxidant which protects hyaluronic acid chains from free radicals and limits their degradation, increasing then their residence time in the joint cavity.
Analgesic effect: Due to its free radical scavenging properties, mannitol also ensures local analgesic effect.
Stabilizer: because it is a thermal stabilizer, mannitol allows HAppyCross™ to guarantee a stability of its rheological properties all along its storage.
Safe
HAppyMini® is highly purified and results from bacterial fermentation.
Experimental/Clinical Studies
HAPPYMINI IN THE TEMPOROMANDIBULAR JOINT
HAPPYMINI IN THE TRAPEZIOMETACARPAL JOINT
Safety and Predictive Factors of Short-Term Efficacy of a Single Injection of Mannitol-Modified Cross-Linked Hyaluronic Acid in Patients With Trapeziometacarpal Osteoarthritis. Results of a Multicentre Prospective Open-Label Pilot Study (INSTINCT Trial)

Dauvissat J, Rizzo C, Lellouche H et al. Clin Med Insights Arthritis Musculoskelet Disord. 2018 Jun 21;11:1179544118782901.

doi: 10.1177/1179544118782901. 

-Publication- 
HAPPYMINI IN THE BIG TOE
HAPPYMINI IN THE PATELLO-FEMORAL CHONDROPATHY