Second generation viscosupplement indicated in the treatment of ankle, hip, shoulder and knee osteoarthritis.
---
---
UNIQUE COMBINATION OF CROSS-LINKED HYALURONIC ACID + MANNITOL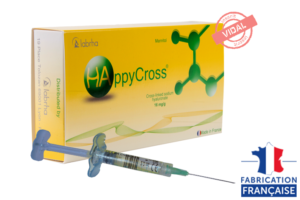 MEDICAL DEVICE – 1 x 2.2 ml pre-filled syringe (SINGLE INTRA-ARTICULAR INJECTION)
High concentration for prolonged activity
HAppyCross™ contains high concentration of hyaluronic acid (1.6%) i.e. 35.2 mg/syringe.
Happycross® estimated Molecular Weight 25MDa.

Cross-linked Hyaluronic Acid
HAppyCross™ is a cross-linked hyaluronic acid gel (IPN-Like technology).
Cross-linking:
Ensures a gel-like rheological behaviour, maximizing then the mechanical properties of hyaluronic acid.

Increases the residence time of the gel in the joint cavity, preventing biodegradation from free radicals and enzymes.
IPN-Like Technology:
A unique and patented cross-linking process.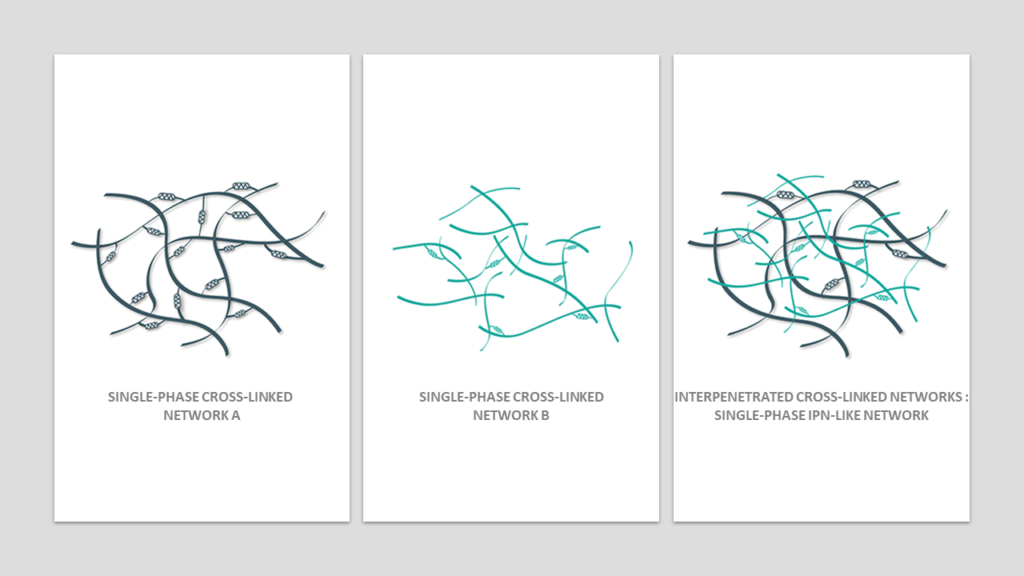 Compared to the classic cross-linking technique, the IPN-Like technology, or InterPenetrated Cross-linked Networks, involves combining, inserting one into another, two monophasic hyaluronic acid networks previously purified and cross-linked which are mechanically independent.  Interpenetration of Cross-linked Networks:
Optimizes the density of the chemical bonds while minimizing the use of reticulating agent (BDDE) within the monophasic gel, ensuring a longer-lasting effect of the product.

Preserves the partial independence of the inter-penetrated networks and guarantees the gel is supple and easy to inject into the joint.
Mannitol
HAppyCross™ also contains high concentration of mannitol (77mg/syringe).
Long-lasting effect: Mannitol is an anti-oxidant which protects hyaluronic acid chains from free radicals and limits their degradation, increasing then their residence time in the joint cavity.
Analgesic effect: Due to its free radical scavenging properties, mannitol also ensures local analgesic effect.
Stabilizer: because it is a thermal stabilizer, mannitol allows HAppyCross™ to guarantee a stability of its rheological properties all along its storage.
Safe
HAppyCross™ is highly purified and results from bacterial fermentation.
Experimental/Clinical Studies
HAPPYCROSS IN THE HIP
Hip Inflammation MRI Scoring System (HIMRISS) to Predict Response to Hyaluronic Acid Injection in Hip Osteoarthritis. Deseyne N, Conrozier T, Lellouche H et al. Joint Bone Spine. 2018 Jul;85(4):475-480. doi: 10.1016/j.jbspin.2017.08.004. -Publication-
HAPPYCROSS IN THE ANKLE
A cohort study on 50 patients treated with HAppyCross® for ankle osteoarthritis has been presented as a poster at the French Society of Rheumatology Congress in 2014. A paper related to this study has been written and is currently in press.
Click here to access the Preliminary results on the first 20 patients included which have been presented in a poster displayed at the International Symposium Intra-Articular Treatment (ISIAT), Barcelona, on the 3-5 October 2013.
HAPPYCROSS IN THE KNEE
Reduction of the Serum Levels of a Specific Biomarker of Cartilage Degradation (Coll2-1) by Hyaluronic Acid (KARTILAGE® CROSS) Compared to Placebo in Painful Knee Osteoarthritis Patients: the EPIKART Study, a Pilot Prospective Comparative Randomized Double Blind Trial. Henrotin Y., Berenbaum F., Chevalier X., Marty M., Richette P., Rannou F. BMC Musculoskelet Disord. 2017 May 26;18(1):222. doi: 10.1186/s12891-017-1585-2. -Publication-
This study has been conducted with biomarkers in order to demonstrate that HAppyCross reduces cartilage degradation in patients with knee OA (decrease of the biomarkers of type II collagen). This study shows HAppyCross is effective to decrease degradation of collagen but has not been designed to show any clinical effects.