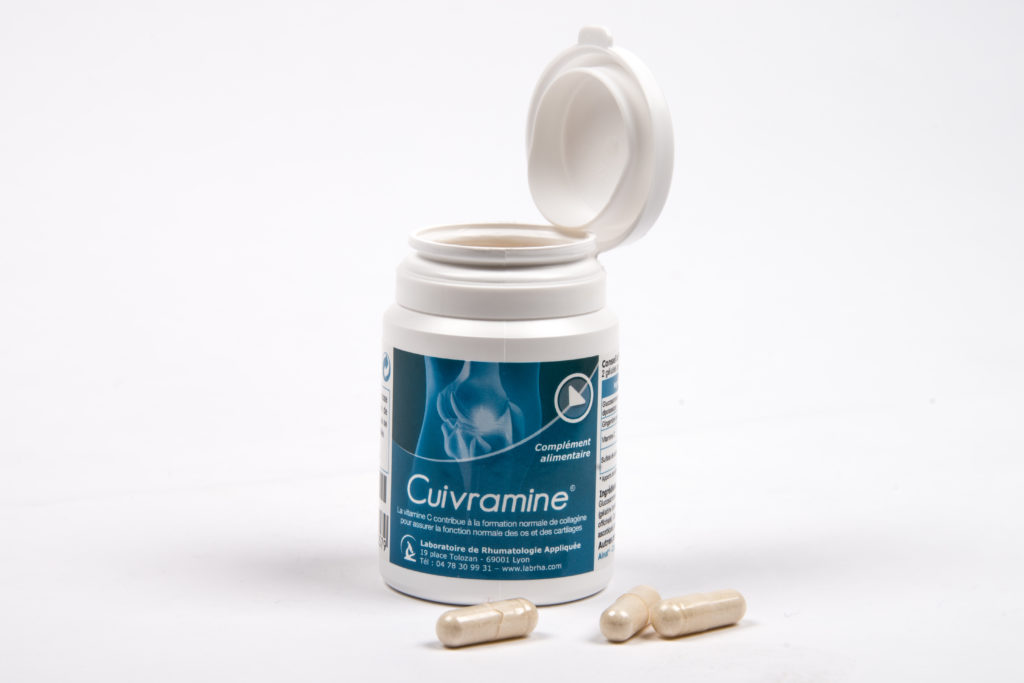 Mobility and flexibility loss? Rigidity?
Cuivramine has been designed for
the well-being of all articular cartilage.
Besides containing glucosamine sulfate which has been studied and proven effective in reducing pain and stiffness symptoms in osteoarthritis, Cuivramine® contains copper, the most powerful natural anticytokine (cytokine IL-1 is a key mediator of cartilage destruction), ginger for its analgesic effect and vitamin C which contributes to normal collagen formation for the normal function of bones and cartilage.
Experimental Study:
Impact of the Addition of Ginger Extract and Copper Sulphate to Glucosamine Sulphate on Il-1β- Stimulated Chondrocytes. Rousset F, Grange L, Nguyen MVU, Pinosa-Zezza C, Gaudin P, et al. J Rheum Dis Treat 2016 2:038 – Publication –
Results:
The study provided experimental evidence in vitro that glucosamine sulfate decreases ADAMTS5 expression and apoptosis in the IL-1 stimulated C-20/A4 chondrocytes. In addition, ginger root and copper sulfate decrease the Nox4 regulated proMMP1 expression.
In other words, glucosamine helps slow down the degenerative process by inhibiting one of the two main enzymes responsible for joint destruction called aggrecanase. However, it does not have any effect on the second one called collagenase. The free radical scavenging properties of copper and ginger inhibit ROS (Reactive Oxygen Species) production (responsible for cell damage) and prevent collagenase (MMP-1) activation.
Combination of Glucosamine sulphate, ginger and copper is then more effective than Glucosamine alone.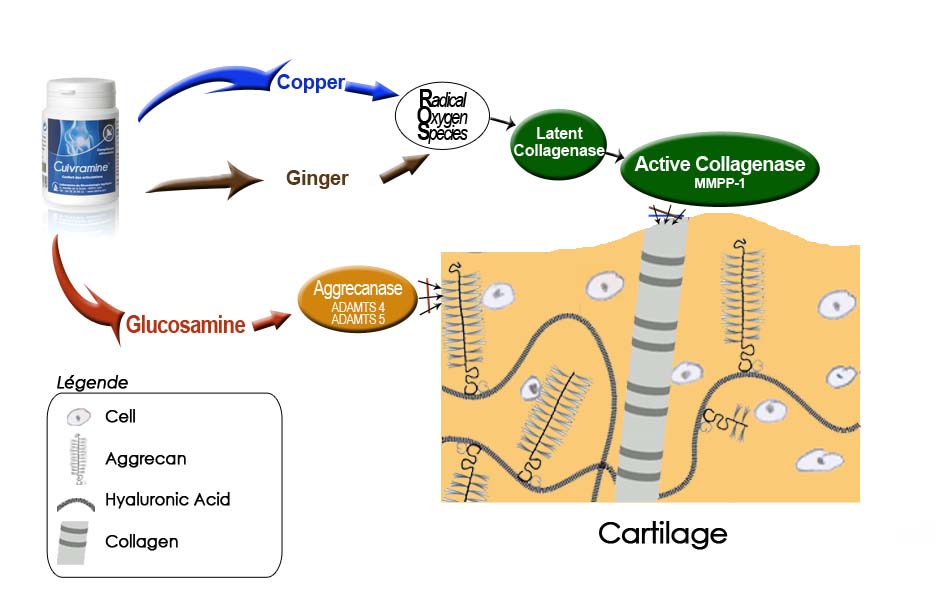 Click here to see the Results of this study displayed at the OARSI Congress in Barcelona in 2012 as well as at the SFR Congress in Paris the same year.
References:
1- Long term effects of glucosamine sulphate on osteoarthritis progression : a randomised, placebo controlled clinical trial.
Reginster JY, Deroisy R, Rovati LC, et al. Lancet 2001 jan 27;357:251-6.
2- Glucosamine sulphate use and delay of progression of osteoarthritis: a 3 years, randomised, placebo controlled, double-blind study.
Pavelka K, Gatterova J, Olejarova M, et al. Arch intern Med 2002 Oct 14;162:2113-23
3- Cyclic diarylheptanoids from rhizomes of zingiber officinale.
Kikusaki H, Nakatani N. Phytochemistry 1996;43(1):273-7
4- Phenolic antioxidants from herbs and spices.
Nakatani N. Biofactors 2000;13(1-4):141-6
5- "Copper bioavailability and requirements"
American Journal of Clinical Nutrition. 1982 Apr; 35(4):809-14
Presentation:
60 capsules
Directions for use:
Take 2 capsules at the same time, any time of the day, with a glass of water.
Components:
GLUCOSAMINE SULPHATE; COPPER; GINGER (Zingiber Officinale Roscoe); VITAMIN C