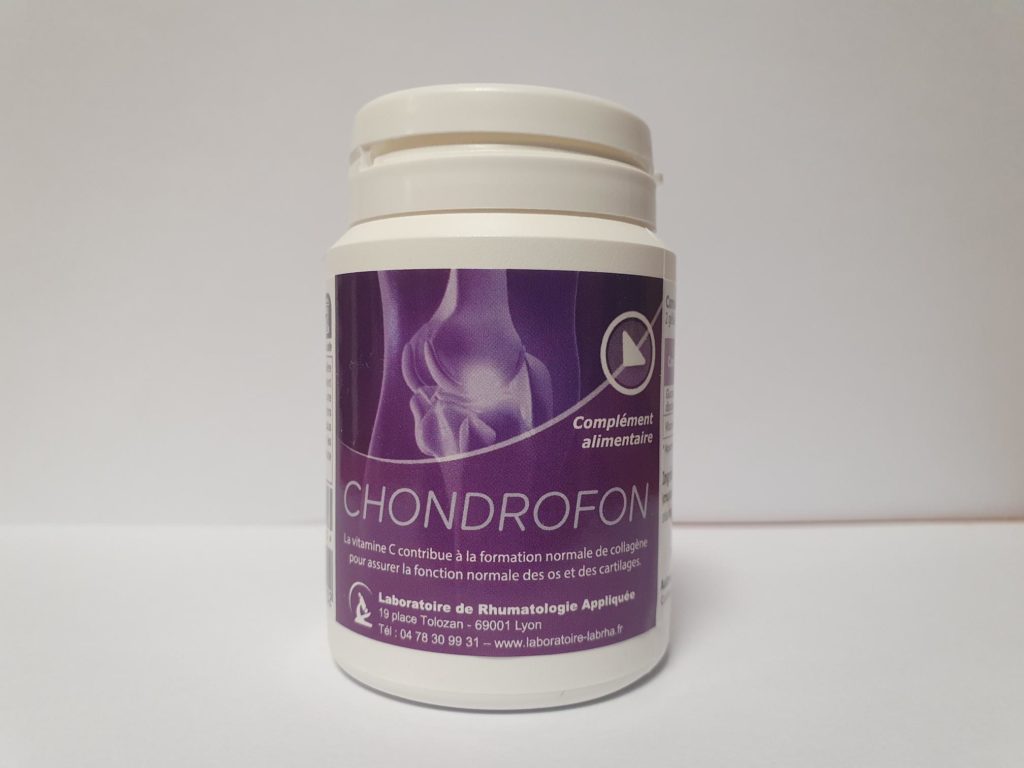 It's natural : as people age, their glucosamine levels reduced, provoking the deterioration of their cartilage and causing pain, swelling and stifness.
Chondrofon provides glucosamine and vitamine C to the organism, for the comfort, mobility and flexibility of the articulations.
Why should you choose Chondrofon®?
Products made of glucosamine sulphate are not always easy to take. You may have to deal with pills to take 3 to 4 times a day, tablets too big to swallow or powder form with bad taste! All this does not facilitate observance of the treatment and people often stop taking it, even if sometimes they try instead of glucosamine sulphate, products made of glucosamine hydrochloride, which is known to be much less effective. Arthrofon® is very easy to take.
With 2 easy-to swallow capsules per day taken once a day, Chondrofon® brings the recommended dose of 1500 mg of glucosamine sulphate per day to promote joint comfort and mobility as well as Vitamin C which contributes to normal collagen formation for the normal function of bones and cartilage.
Who should take Chondrofon®

Everyone who suffer from joint discomfort: older people but also athletes as well as people whose jobs involve repetitive movements and put an extra strain on the joints in everyday life.
What is glucosamine ?
Glucosamine occurs naturally in the body and is one of the 'building blocks' of cartilage, necessary for its production, growth and repair. It is an amino sugar made from glucose and the amino acid glutamine. Chondrofon® provides marine derived glucosamine made from chitin, a substance found in the shells of crustaceans like crabs and lobsters.
Why should people take glucosamine supplements ?
Glucosamine is produced within the body. However, as people age, the capacity to manufacture sufficient levels of glucosamine is reduced. The cartilage then begins to deteriorate which causes pain, swelling and stiffness. Supplements are the best source of additional glucosamine to help maintain joint health and mobility.
References:
1- Long term effects of glucosamine sulphate on osteoarthritis progression: a randomised, placebo controlled clinical trials.
Reginster JY, Deroisy R, Rovati LC, et al. Lancet 2001 Jan 27;357:251-6
2- Glucosamine sulphate use and delay of progression of osteoarthritis: a 3 years, randomised, placebo controlled, double-blind study.
Pavelka K, Gatterova J, Olejarova M, et al. Arch intern Med 2002 Oct 14; 162:2113-23
Presentation:
60 capsules
Directions for use:
Take 2 capsules at the same time, any time of the day, with a glass of water.
Components:
GLUCOSAMINE SULPHATE 2KCL; VITAMIN C