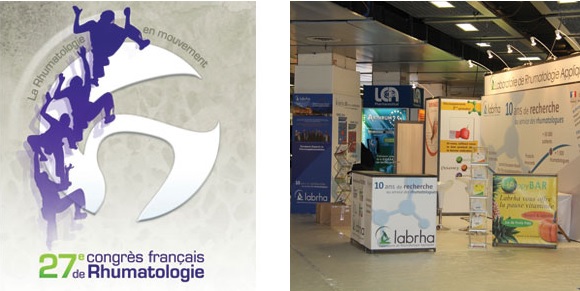 LABRHA actively participated in the 27th Annual Congress of the French Society of Rheumatology which took place in Paris from 7 to 9 December 2014.
LABRHA was present with a booth in the exhibition area (F4-F5) where the company's innovative portfolio and scientific projects were presented to the medical community.

Posters and Oral Communication – SFR 2014

4 posters were displayed throughout the Congress and an oral communication was presented by Dr. Thierry Conrozier.
HAPPYVISC®
PROSPECTIVE, MULTICENTER, RANDOMIZED, DOUBLE-BLIND, PARALLEL GROUP STUDY COMPARING THE EFFICACY AND SAFETY OF A NEW VISCOSUPPLEMENT COMBINING HA AND MANNITOL (HAPPYVISC®) WITH A VISCOSUPPLEMENT OF HIGH MOLECULAR WEIGHT (EUFLEXXA®) IN THE TREATMENT OF SYMPTOMATIC KNEE OSTEOARTHRITIS.
Conrozier T, Balblanc JC, Marque S, Legré V, Chevalier X.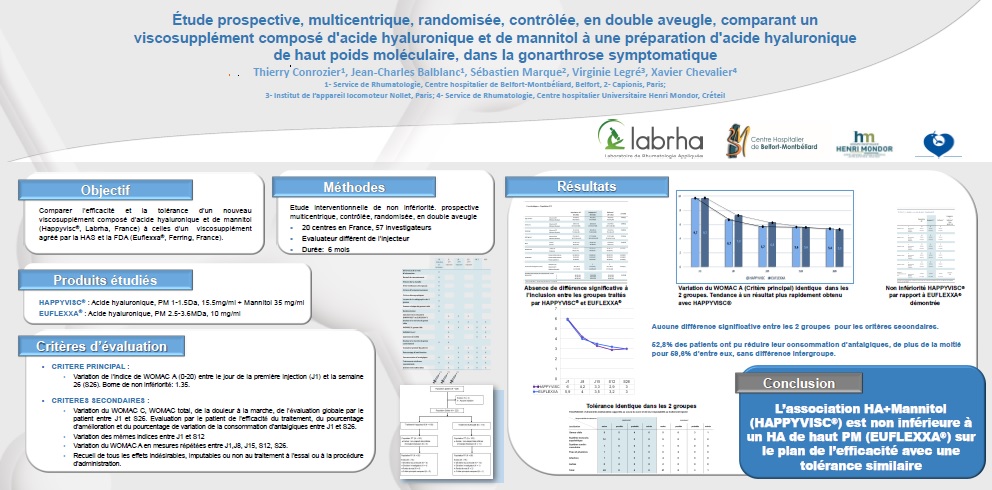 Large scale : study conducted on 222 patients
Long follow up: 6 months
Efficacy and safety of HAppyVisc®: Excellent efficacy, positive results on all the clinical parameters assessed. Very well tolerated.
Effectiveness obtained at day 15: Efficacy of HAppyVisc® equivalent to Euflexxa however results have been obtained  more rapidly ( J15 instead of S12).
HAPPYCROSS®
EFFICACY AND SAFETY OF A SINGLE INTRA-ARTICULAR INJECTION OF HA+MANNITOL (HAPPYCROSS®) IN ANKLE OSTEOARTHRITIS. RESULTS OF A FOLLOW-UP STUDY CONDUCTED ON 50 PATIENTS.
Conrozier T, Walliser-Lohse A, Bossert M, Balblanc JC.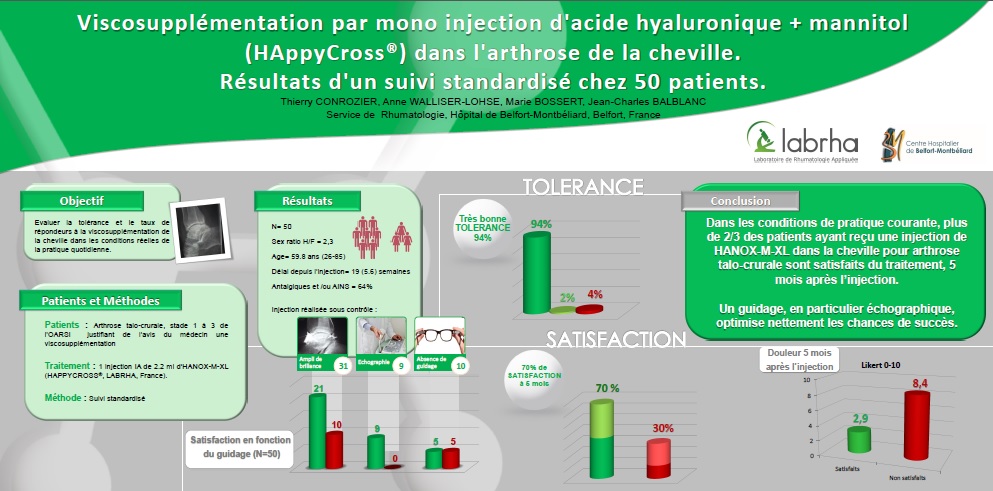 Paper publication planned in 2015
Preliminary results presented in a poster displayed at the ISIAT Congress in 2013 on the first 20 patients included.
MANNITOL
MANNITOL PRESERVES THE VISCOELASTIC PROPERTIES OF HYALURONIC ACID IN AN OXIDATIVE STRESS MODEL INDUCED BY HYDROGEN PEROXIDE. IN VITRO COMPARATIVE STUDY.
Conrozier T, Rinaudo M.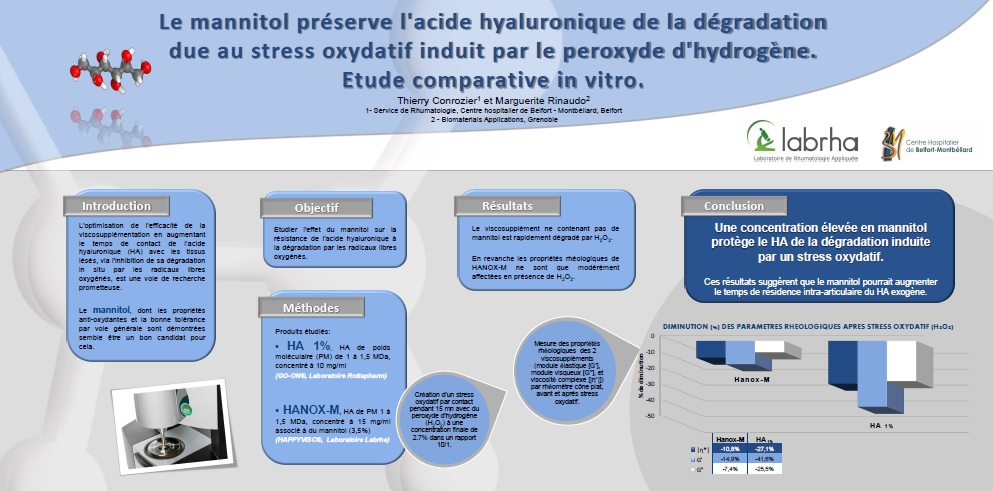 EFFECTS OF INTRA-ARTICULAR INJECTIONS OF HA (Go-On®) vs. HA+MANNITOL (HAppyVisc®) ON THE EXPRESSION OF THE KEY PROTEASES INVOLVED IN OSTEOARTHRITIS (MMP1, MMP13, ADAMTs4). IN VITRO COMPARATIVE STUDY.
Pinosa C, Morel F, Grange L, Conrozier T, Lardy B.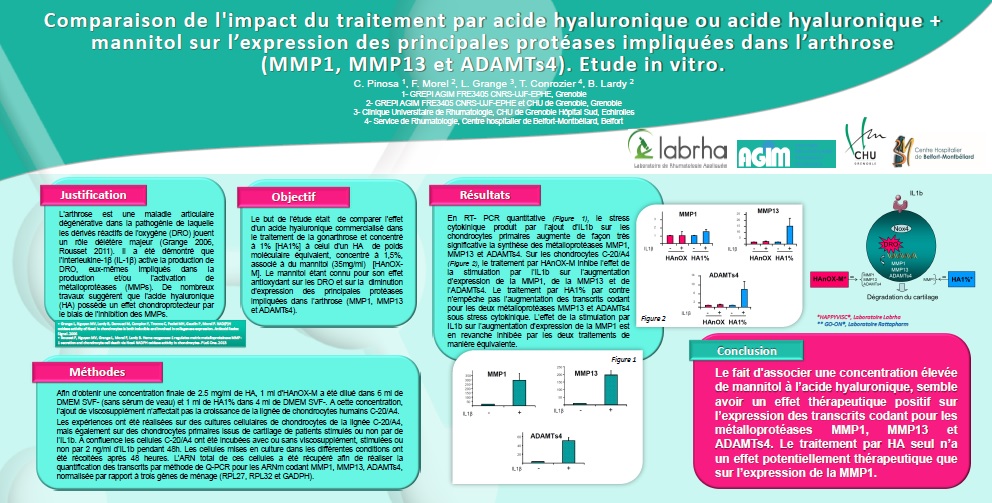 HAppyVisc® was more effective than regular HA (Go-on®) to decrease MMPs expression. Indeed, HAppyVisc® decreased MMP1, MMP13 and ADAMTs4 expression in IL-1 stimulated chondrocytes, while Go-on® reduced only MMP1 but not MMP13 and ADAMTs4.
.
HYALURONIC ACID – VISCOELASTIC PROPERTIES
EFFECT OF CORTICOSTEROIDS, LIDOCAIN AND MEGLUMINE IOXAGLATE ON THE VISCOELASTIC BEHAVIOUR OF HYALURONIC ACID. IN VITRO COMPARATIVE STUDY.
Conrozier T, Patarin J, Mathieu P, Rinaudo M.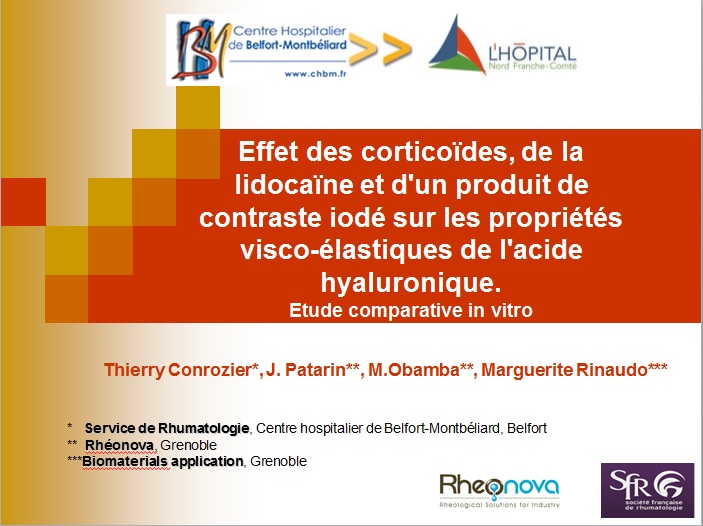 Oral communication presented by Dr. Thierry Conrozier