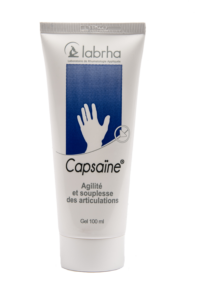 When having joints disconforts or pain,
it is essential to benefit from a massage analgestic virtues.
Capsaïne® gel is the first natural gel combining capsaicin with glucosamine, chondroitin, camphor and menthol.
Capsaicin: a substance recommended by European and American authorities for its analgesic properties.
The American Food and Drug Administration (FDA)

has approved capsaicin-based creams, lotions and ointments to alleviate pain in osteoarthritis, polyarthritis and peripheral neuropathies.
EULAR 2003 – Knee osteoarthritis, recommendation 5

:

"Topical applications (NSAID or capsaicin) have clinical efficiency and are safe"
EULAR 2006 – Hand osteoarthritis, recommendation 6

:

"For mild to moderate pain and when not many joints are affected, local or topical treatments (e.g. topical NSAIDs, capsaicin) are better than systemic treatments. »
Who should use Capsaïne® Gel?
Everyone who suffers from discomfort and stiffness in the small joint of the hands, wrists and fingers but also in the knees, elbows and spine. Actually, you can apply Capsaïne® gel on every painful joints that are easily accessible to improve their mobility and suppleness.
References:
Efficacy of symptomatic control of knee osteoarthritis with 0.0125% capsaicin versus placebo
Kosuwon W. et al., J Med Assoc Thai. 2010; 93(10): 1188-95 (very recent clinical trial conducted in Thailand)
Systematic review of topical capsaicin for the treatment of chronic pain
Mason L, Moore RA, Derry S, Edwards JE, McQuay HJ., BMJ (British Medical Journal). 2004 Apr 24;328(7446):991
Treatment of arthritis with topical capsaicin: a double-blind trial
Deal CL, Schnitzer TJ, Lipstein E, Seibold JR, Stevenc RM, Levy MD, Albert D, Renold F., Clin Ther. 1991 May-Jun; 13(3):383-95
Topical capsaicin in humans: parallel loss of epidermal nerve fibers and pain sensation
Nolano M, Simone DA, Wendelschafer-Crabb G, Johnson T, Hazen E, Kennedy WR., Pain. 1999 May; 81(1-2):135-45
A randomized, double blind, placebo controlled trial of a topical cream containing glucosamine sulfate, chondroitin sulfate, and camphor for osteoarthritis of the knee.
Cohen M, Wolfe R, Mai T, Lewis D., J Rheumatol. 2003 Mar;30(3):523-8.
A complete dossier published by an American Journal called "Seminars in Arthritis and Rheumatism" and which gathers several scientific articles and some studies regarding topical capsaicin and substance P is also available.
Presentation:
100 ml tube
Directions for use:
Apply 2 to 3 times a day for at least 15 days on the painful areas and gently rub in until absorbed.

Components:
CAPSICUM 1% Capsaicin; GLUCOSAMINE SULPHATE; CHONDROITIN; CAMPHOR; MENTHOL; ESSENTIAL OILS (cloves, olibanum)