Second generation viscosupplement indicated in the treatment
of knee osteoarthritis.
HYALURONIC ACID + MANNITOL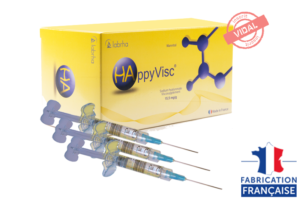 MEDICAL DEVICE – 3 x 2 ml pre-filled syringes
---
---
---
High Molecular Weight
HAppyVisc™ is a visco-elastic gel which combines high molecular weight hyaluronic acid of 1.5 million Daltons and mannitol.
---
---
---
High concentration for prolonged activity
HAppyVisc™ contains high concentration of hyaluronic acid (1.55%) i.e. 31 mg/syringe. HAppyVisc™ brings 50% more hyaluronic acid than a traditional visco-elastic solution.
---
---
---
Mannitol
HAppyVisc™ contains high concentration of mannitol (70 mg/syringe).
Long-lasting effect: Mannitol is an anti-oxidant which protects hyaluronic acid chains from free radicals and limits their degradation increasing then their residence time in the joint cavity.
Analgesic effect: Due to its free radical scavenging properties, mannitol also ensures local analgesic effect.
Stabilizer: Because it is a thermal stabilizer, mannitol allows HAppyVisc™ to guarantee a stability of its rheological properties all along its storage.
---
---
---
Safe
HAppyVisc™ is highly purified and results from bacterial fermentation.
Experimental/Clinical studies
Safety and efficacy of intra articular injections of a combination of hyaluronic acid and mannitol (HANOX-M) in patients with symptomatic knee osteoarthritis. Results of a double-blind, controlled, multicenter, randomized trial. T. Conrozier, F. Eymard, N. Afif, et al. on behalf of the Happyvisc Study. The Knee. 2016. doi

:

http://dx.doi.org/10.1016/j.knee.2016.05.015

-Publication-


Obesity and radiological severity are associated with viscosupplementation failure in patients with knee osteoarthritis. F. Eymard; X. Chevalier; T. Conrozier. J Orthop

Res. 2017 Jan 27.

doi: 10.1002/jor.23529

.

-Publication-

Addition of Mannitol to Hyaluronic Acid may Shorten Viscosupplementation Onset of Action in Patients with Knee Osteoarthritis: Post-Hoc Analysis of A Double-blind, Controlled Trial. Eymard F, Bossert M, Lecurieux R, et al. (2016) J Clin Exp Orthop 2: 21.

doi: 10.4172/2471-8416.100021

-Publication-

Impact of Obesity, Structural Severity and Their Combination on the Efficacy of Viscosupplementation in Patients With Knee Osteoarthritis.

 T. Conrozier, F. Eymard, M; Chouk, et al. BMC Musculoskelet Disord 2019 Aug 17;20(1):376. doi: 10.1186/s12891-019-2748-0. 

Publication-

 

Does the Presence of Neuropathic Pain Influence the Response to Hyaluronic Acid in Patients with Knee Osteoarthritis?

Tiendrebeogo E, Choueiri M, Chevalier X, et al. Cartilage. 2020 Sep10:1947603520954509

. 

doi: 10.1177/1947603520954509

– Publication-