Safety and efficacy of intra-articular injections of a combination of hyaluronic acid and mannitol (HAnOX-M) in patients with symptomatic knee osteoarthritis. Results of a double-blind, controlled, multicenter, randomized trial. T. Conrozier, F. Eymard, N. Afif, JC. Balblanc, V. Legré-Boyer, X. Chevalier, on behalf of the Happyvisc Study. The Knee. 2016. DOI: http://dx.doi.org/10.1016/j.knee.2016.05.015
The above mentioned clinical trial, conducted by LABRHA on 226 patients with knee OA and which compares the efficacy and tolerance of HAppyVisc® vs. Euflexxa®, has been very recently published in the well-known international journal The Knee (Impact Factor:1.446).
Results of this study show:
HAppyVisc® was non-inferior to Euflexxa® for reducing pain and improving function
There was a trend for a

faster response with HAppyVisc® than Euflexxa®

on pain
HAppyVisc® was as well

tolerated

as Euflexxa®

No severe adverse event related to HAppyVisc®

was reported.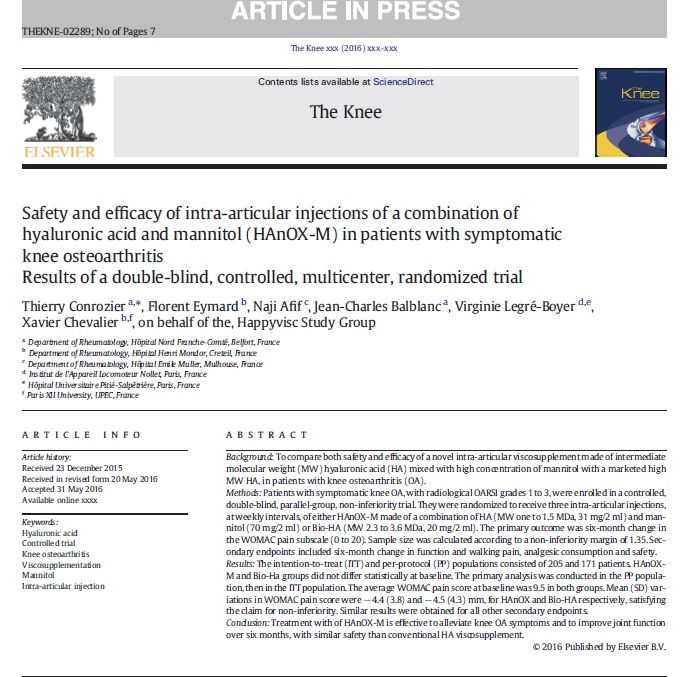 Keywords: Hyaluronic acid, Controlled trial, Knee osteoarthritis, Viscosupplementation, Mannitol, Intra-articular injection.
Read Full Text