LABRHA participated at the EULAR Congress, which took place from the 14th to the 17th of June 2017 in Madrid, and presented the very positive results of a study conducted on its product Fibromyalgine®, a phytotherapy solution designed for Fibromyalgia sufferers.
The abstract MULTICENTER, PROSPECTIVE, CONTROLLED DOUBLE-BLIND STUDY COMPARING FIB-19-01 (FIBROMYALGINE®), A PHYTOTHERAPY TREATMENT FOR FIBROMYALGIA, TO A DIETARY SUPPLEMENT AND TO CONVENTIONAL TREATMENT IN PATIENTS SUFFERING FROM FIBROMYALGIA has been accepted as a poster presentation and displayed at the 2017 EULAR Congress.
.
Objectives and Methods:
The objective of this study was to assess both efficacy and safety of adding Fibromyalgine®, a phytotherapy solution for Fibromyalgia sufferers, to the current therapeutic regimen in female patients suffering from Fibromyalgia (FM).
Women with active FM (Fibromyalgia Index Questionnaire FIQ > 40) were randomised to receive Fibromyalgine® (Fib-19-01) or a food supplement (FS) undistinguishable from Fibromyalgine® or no supplementary treatment (NoST). All continued the conventional therapy throughout the 6 months follow-up.
Primary endpoint: change in the FIQ between Day 0 and month 6 (M6).
Secondary Criteria: variation over time of the FIQ (repeated measurements), change in Pichot fatigue scale, Pittsburgh Sleep Quality Index (PSQI), SF-12 and HAD scales.
Results: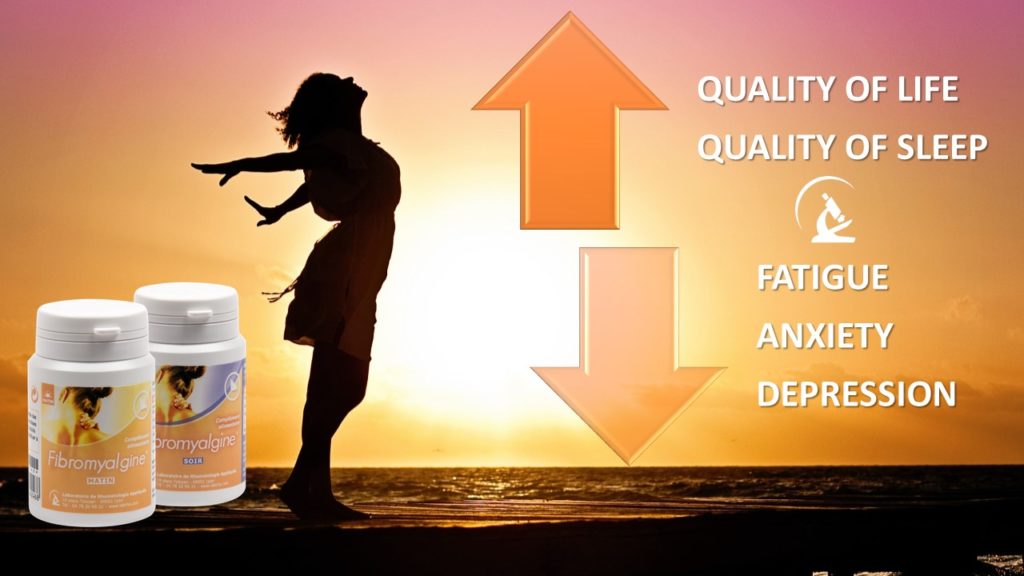 101 patients (ITT population) were analysed. FIQ decreased significantly only in the group Fib-19-01 (p <0.001). Improvement was higher (-13.5) than in the 2 other groups (-5.4 and -5.6)(p = 0.08). Analysis of variance in repeated measurements of FIQ showed a significant difference between Fib-19-01 and FS (p = 0.03).
On secondary criteria, Fib-19-01 was superior to FS and NoST for Pichot scale (p = 0.013), mental and social SF12 (p = 0.018), HAD depression (p = 0.013). No significant difference was found between FS and NoST groups. All treatments were well and similarly tolerated.
Conclusions:
Inpatients with FM insufficiently improved with conventional therapy, Fibromyalgine® has therapeutic effects on the components "fatigue", "emotion and social life" as well as "depression" of the disease, without safety concern.
.
Read the Poster presented at the EULAR Congress