SECOND GENERATION VISCO-ELASTIC SOLUTION
INDICATED IN THE TREATMENT OF PAIN IN SMALL JOINTS AFFECTED BY OSTEOARTHRITIS
UNIQUE COMBINATION OF CROSS-LINKED HYALURONIC ACID + MANNITOL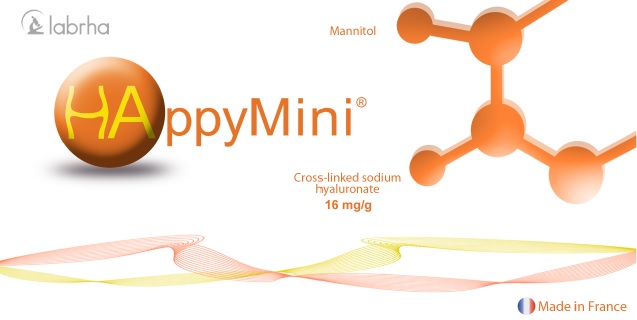 MEDICAL DEVICE – 1 x 1 ml (SINGLE INTRA-ARTICULAR INJECTION)
Appropriate Volume
HAppyMini® is supplied in a 1ml pre-filled syringe and is entirely appropriate for intra-articular injection into:
Basal joint of the thumb   –   Big toe   –   Temporomandibular joint   –   Wrist   –   Fingers
High Concentration for Prolonged Activity
HAppyMini® contains high concentration of hyaluronic acid: 1.6% i.e. 16 mg/syringe.
Cross-Linked Hyaluronic Acid
HAppyMini® is a cross-linked hyaluronic acid gel (IPN-Like technology)
Cross-linking:
•    Ensures a gel-like rheological behaviour, maximizing then the mechanical properties of hyaluronic acid.
•    Increases the residence time of the gel in the joint cavity, preventing biodegradation from free radicals and enzymes.
Mannitol
HAppyMini® also contains high concentration of mannitol (35mg/syringe).
Long-lasting effect: Mannitol is an anti-oxidant which protects hyaluronic acid chains from free radicals and limits their degradation, increasing then their residence time in the joint cavity.
Safe
HAppyMini® is highly purified and results from bacterial fermentation.
Experimental/Clinical Studies
Role of high concentrations of mannitol on the stability of hyaluronan in an oxidative stress model induced by xanthine/xanthine oxidase. M.Rinaudo, B.Lardy, Th.Conrozier. Poster presented at the International Symposium Intra-Articular Treatment, Barcelona, 3-5 October 2013; Poster presented at the 26th Congress of the French Society for Rheumatology, Paris, 1-3 December 2013; Poster presented at the 2014 OARSI World Congress, Paris, 24-27 April 2014 (results available, c.f. poster presentation)