SECOND GENERATION VISCO-ELASTIC SOLUTION
INDICATED IN THE TREATMENT OF PAIN IN SMALL JOINTS AFFECTED BY OSTEOARTHRITIS
UNIQUE COMBINATION OF CROSS-LINKED HYALURONIC ACID + MANNITOL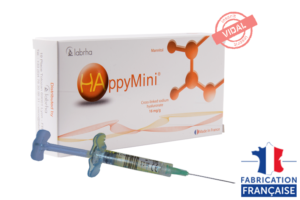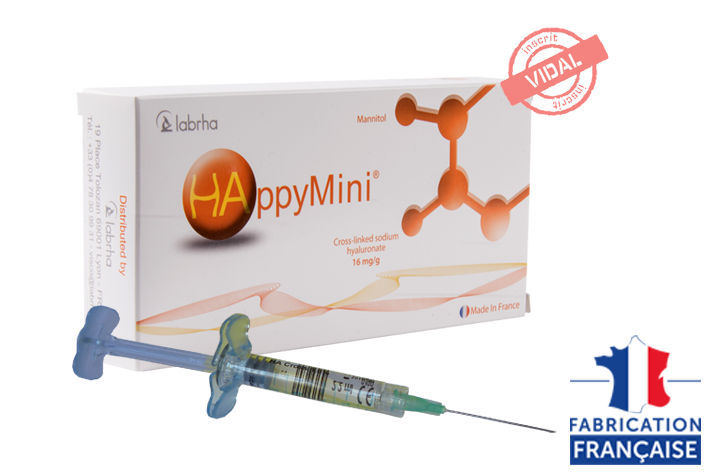 MEDICAL DEVICE – 1 x 1 ml
(SINGLE INTRA-ARTICULAR INJECTION)
Appropriate Volume
HAppyMini® is supplied in a 1ml pre-filled syringe and is entirely appropriate for intra-articular injection into:
TMC joint of the thumb   –   Fingers   –   Big toe   –   Temporomandibular joint   –   Wrist   –   Subtalar joint

High Concentration for Prolonged Activity
HAppyMini® contains high concentration of hyaluronic acid: 1.6% i.e. 16 mg/syringe
Cross-Linked Hyaluronic Acid
HAppyMini® is a cross-linked hyaluronic acid gel (IPN-Like technology)
Cross-linking:
Ensures a gel-like rheological behaviour, maximizing then the mechanical properties of hyaluronic acid.
Increases the residence time of the gel in the joint cavity, preventing biodegradation from free radicals and enzymes.
IPN-Like Technology: a unique and patented cross-linking process
Compared to the classic cross-linking technique, the IPN-Like technology, or InterPenetrated Cross-linked Networks, involves combining, inserting one into another, two monophasic hyaluronic acid networks previously purified and cross-linked which are mechanically independent.  Interpenetration of Cross-linked Networks:
Optimizes the density of the chemical bonds while minimizing the use of reticulating agent (BDDE) within the monophasic gel, ensuring a longer-lasting effect of the product.
Preserves the partial independence of the inter-penetrated networks and guarantees the gel is supple and easy to inject into the joint.
Mannitol
HAppyMini® also contains high concentration of mannitol (35mg/syringe).
Long-lasting effect: Mannitol is an anti-oxidant which protects hyaluronic acid chains from free radicals and limits their degradation, increasing then their residence time in the joint cavity.
Analgesic effect: Due to its free radical scavenging properties, mannitol also ensures local analgesic effect.
Stabilizer: because it is a thermal stabilizer, mannitol allows HAppyCross™ to guarantee a stability of its rheological properties all along its storage.
Safe
HAppyMini® is highly purified and results from bacterial fermentation.
Experimental/Clinical Studies
HAPPYMINI IN THE TEMPOROMANDIBULAR JOINT
Treatment of Temporomandibular joint OA with an intra-articular injection of Hyaluronic acid: Predictive factors of patient's satisfaction 6 months after a single intra-articular injection of HAppyMini. Study conducted on around 50 patients -Presentation displayed at the SFR 2018 congress-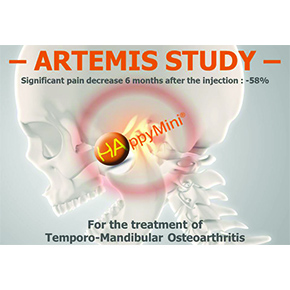 HAPPYMINI IN THE TRAPEZIOMETACARPAL JOINT
HAPPYMINI IN THE BIG TOE
Is the radiological grade a predictive factor of efficacy of an intra-articular injection of hyaluronic acid (HAppyMini) in patients suffering from Hallux rigidus? Prospective survey on around 60 patients treated in private medical care –poster displayed at the ACR 2018 congress-
OTHER STUDIES
Decision Algorithms for the Retreatment with Viscosupplementation in Patients Suffering from Knee Osteoarthritis. Recommendations from the EUROpean VIScosupplementation COnsensus Group (EUROVISCO). R. Raman, Y. Henrotin, X. Chevalier, A. Migliore, J. Jerosch, J. Montfort, H. Bard, D. Baron, P. Richette, T. Conrozier. Cartilage. February-01-2017. Doi: 10.1177/1947603517693043 -Publication-
.