Global Solution in Osteoarthritis Treatment: Discover the most Complete Range of Viscosupplements!

Our goal: Develop the most complete range of viscosupplements possible to offer a global solution in osteoarthritis treatment and meet all the type of needs in the market (from doctors' to patients') to completely satisfy everyone.
Today, LABRHA provides a complete range of new and innovative viscosupplements, each one having its own characteristics and specific indications. With LABRHA's viscoelastic solutions, you can treat all type of joints (including small and medium-sized joints) and adapt treatment depending on the severity of the disease (from grade I to IV, from mild to severe cases).
INNOVATION: Discover our 2nd Generation Viscosupplements combining highly concentrated Hyaluronic Acid and Mannitol to treat Osteoarthritis

Unlike other products on the market made of hyaluronic acid only, LABRHA has developed new and innovative viscosupplements which combine highly concentrated hyaluronic acid and mannitol. Mannitol is an anti-oxidant which protects hyaluronic acid chains from free radicals and limits their degradation, increasing then their residence time in the joint cavity. Moreover, due to its free radical scavenging properties, mannitol also ensures local analgesic effect. Using LABRHA's viscosupplements  ensures the patient rapid effect on pain and longer effect/relief over the time.
Because it is a thermal stabilizer, mannitol allows our products to guarantee a stability of their rheological properties all along their storage.
Discover our range:
HAppyCross® : Treatment of ankle, hip, shoulder and knee osteoarthritis [Medical Device]
Single intra-articular injection
Highly concentrated (1.6% i.e. 35.2 mg/2.2 ml) cross-linked hyaluronic acid  + Mannitol (77 mg/2.2 ml)
Appropriate volume for medium-sized joints such as ankle, hip and shoulder – 2.2 ml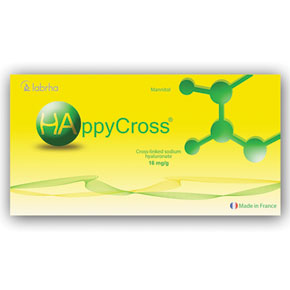 HAppyVisc®: Treatment of knee osteoarthritis [Medical Device]

3 x 2 ml pre-filled syringes – Treatment cycle of 3 injections
Highly concentrated hyaluronic acid (1.55 %, i.e. 31 mg/2 ml) + Mannitol (70 mg/2 ml)
MW: 1.5 million Daltons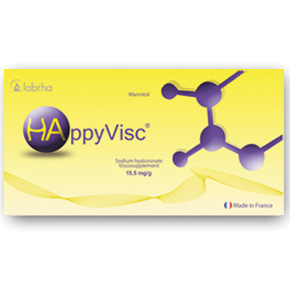 HAppyMini®

:

Indicated to treat symptoms of pain in small joints affected by osteoarthritis such as hand, fingers, basal joint of the thumb, big toe, temporomandibular joint and wrist. [Medical Device]
1 x 1ml
Single intra-articular injection
Highly concentrated (1.6%, i.e. 16 mg/1 ml) cross-linked hyaluronic acid  + Mannitol (35 mg/1ml)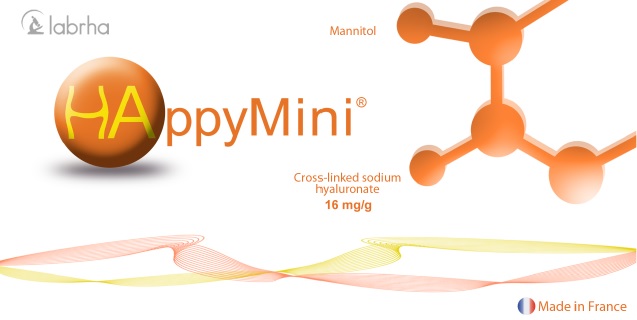 .