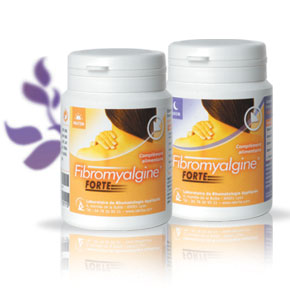 Fibromyalgine® Forte is recommended if results are not obtained or not sufficient with Fibromyalgine®.
Even if Fibromyalgine® Forte is quite different from Fibromyalgine®, with distinct formulas and new ingredients, it is also designed to improve quality of life and is still presented with its morning and evening formula.
Fibromyalgine® Forte has effects on widespread pain, fatigue and sleep disorders but also on irritable bowel (thanks to the sage we add to the morning formula).
Like Fibromyalgine®, Fibromyalgine® Forte may serve as a basis for the treatment of patients to ensure a global effect with other therapies while limiting the number of medicines taken.
Clinical Trial:
Multicenter, randomized and controlled study conducted on 150 patients (conventional treatment vs. conventional treatment + Fibromyalgine® vs. conventional treatment + Fibromyalgine® Forte)
Prof. Bertin (ongoing)
Presentation:
2 x 60 vegetable capsules
Directions for use:
Take 2 capsules per day with a glass of water:
– 1 capsule upon rising (morning formula)
– 1 capsule before bedtime (evening formula)
Components:
Morning Formula: ACEROLA (Malpighia Glabra L.), 25% Vitamin C; GINZENG (Panax Ginseng C.A. Meyer); WHITE WILLOW (Salix Alba L.); SAGE (Salvia Lavandulifolia); MAGNESIUM; L-TYROSINE
Evening Formula: VALERIAN (Valeriana Officinalis); PASSION FLOWER (Passiflora Incarnata L.); WHITE WILLOW (Salix Alba L.); CALIFORNIA POPPY (Eschscholzia Californica); L-TRYPTOPHAN